Mexborough & Swinton Times – Saturday 02 November 1940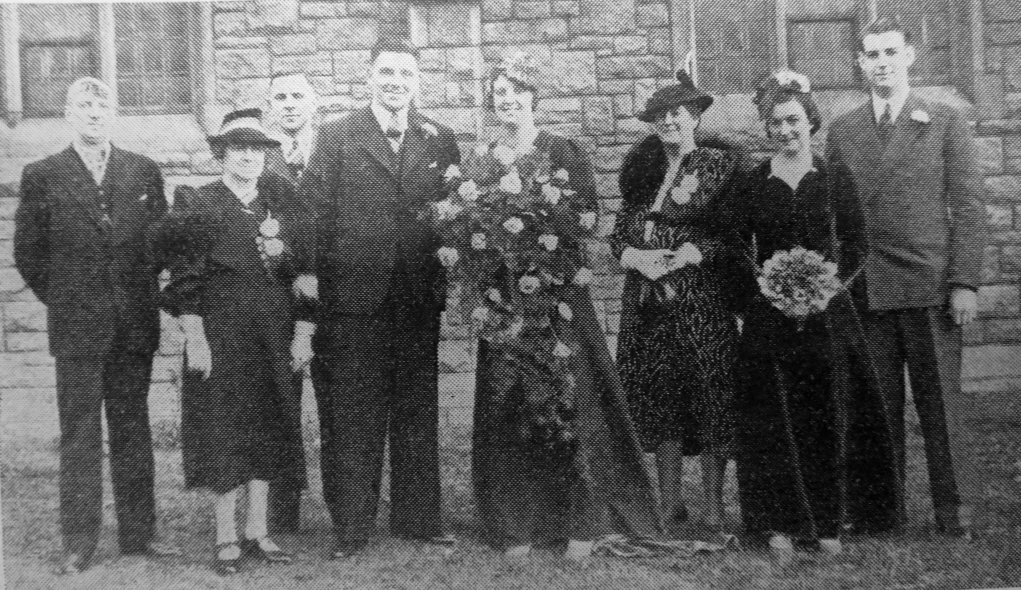 A wedding which aroused considerable interest in the Thurnscoe district was solemnised at St. Hilda's Church, Thurnscoe, on Sunday morning. The bride was Miss Marjorie (Joy) Spencer, daughter of Mr. and Mrs. W. Spencer, of 85, Lidgett Lane, Thurnscoe East, and the bridegroom, Mr. George Dowson, third son of Mrs. G. Dowson and the late Mr. Dowson, of 9, Hope Avenue, Goldthorpe.
The Vicar, the Rev. A. C. E. Bennett, officiated at the choral service, and hymns sung were " The Voice That Breathed O'er Eden," and " How Welcome was the Call," the organist being Mr. A. Stone.
The bride, who was given away by her father, wore a cyclamen velvet gown in Princess style with shoes and hat to -match. Her bouquet was of Madame Sylvia roses and she was attended by Miss Gertie Tinker, who was attired in wine-coloured silk velvet with hat and shoes to tone and carried a posy of anemones and violets.
The best man was Mr. E. Dawson, brother of the bridegroom, and the groomsman, Mr W. G. Spencer, brother of the bride. The bridegroom's gift to the bridesmaids was a handbag. Among the many presents received was a canteen of cutlery from workmates of the bridegroom, and a case of silver ware from former workmates at Hickleton Colliery.
At a reception at the home of the bride's parents, the mother of the bride received the guests in a black and white marocain outfit with hat and accessories to tone, the bridegroom's mother having chosen black cloque trimmed with beige. The bride and bridegroom later left for a travelling honeymoon, the bride wearing a grey costume with pink velour hat.
The bride's parents are very well known in Thurnscoe and Goldthorpe business circles, and the bride's mother is a prominent public worker in the district. She served for several years on the former Bolton and former Thurnscoe Urban Councils, and is chairman of the Montagu Hospital Ladies Committee.