South Yorkshire Times January 27, 1968
Sprinter Valerie Wild Advances Wedding By Week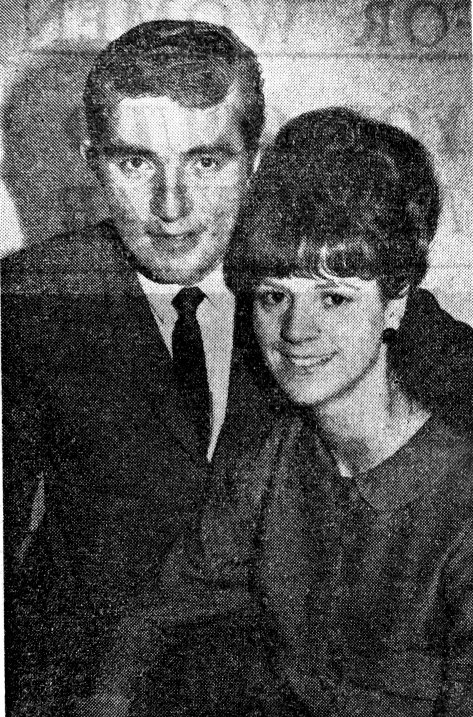 When love and sport compete in a young girl athlete's life, it is sometimes a tricky problem to choose which comes first. Thurnscoe's Valerie Wild (20), has decided to advance her wedding day by a week so that she can take up an A.A.A. invitation to join the British Olympic squad for a February weekend at Brighton.
The invitation is a big honour for miner's daughter Valerie, a former Thurnscoe High School pupil with an impressive sprinting record.
Valerie, of 99, Lidgett Lane, who works at Thurnscoe's "pit shop", is highly-ranked among British women athletes for her scintillating 100 and 220 yards performances, and won the shorter sprint for England at the Highland Games at Murrayfield in August, and came second in flip 220 yards.
Her wedding to 21-years-old Duncan Peat, of 83, Doncaster Road, Goldthorpe, was scheduled for February 17th at St. Hilda's Church, Thurnscoe . . . but then came the invitation to spend February 16th-18th at a Brighton hotel for a British Olympic Squad "get together" and training session with top A.A.A. coaches Denis Watts and Bill Marlow.
"Duncan and I decided to advance our wedding to February 10th," said Valerie this week, "and we may start our honeymoon in Brighton at the beginning of that week."
From Barnsley Town Talk
http://www.barnsley.towntalk.co.uk/local/famous-people/d/845/valerie-val-peat-nee-wild/
Valerie (Val) Peat (nee Wild) of Barnsley
Sports Person
birth: Apr 30, 1947
Was a member of Hickleton Main Athletics Club, Thurnscoe and DHTC Cudworth. Key events were 100m, 200m and 4X100m relay Competed for Great Britain in the 1968 Mexico Olympics. Won European bronze and silver medals at the European Championships in Athens and 1969, and a silver medal at the 1970 Commonwealth Games in Edinburgh.
Was a member of the Great Britain 4x200m relay team that broke the world record at Crystal Palace in 1968. Held the British 100m record from 1968 to 1971.
Valerie sadly passed away in May 1978 aged 50
(Note: The last sentence is incorrect )